UPDATE:
Our Charity Golf Day was held on the 22nd Feb, 2022.
We had 18 teams in total - 15x teams of 4, and 3x teams of 3.

Thank you for your patience whilst all the details came back in.
We are so excited to let you know that your generous support of our GOLF DAY has raised $8,395 to support children living with cancer and their families.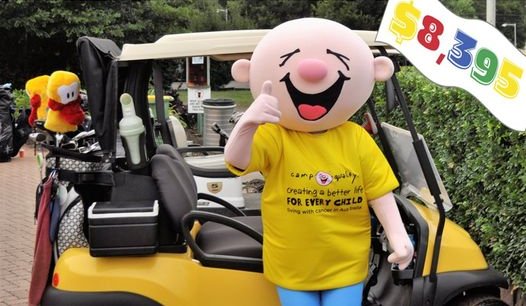 Our sponsors and prize donors collectively contributed over $5000 in prizes. Please consider using these wonderful businesses in the future. See their links at the bottom of the page.
Some photos will be coming soon!
Below are the details of the day .....
FORMAT:
4 Ball Ambrose. Open to GA handicapped and non Handicapped players.
(non handicapped players will be given 16 Handicap).
TIME:
7:00am Check-In and breakfast
8:00am Shotgun start.
Lunch following your game.
Opportunities for:
- Nearest the Pin competition,
- Pay the pro to either hit for you or give tuition,
- more fun - TBA
Ways that you supported our GOLF DAY:
1. $500 - Sponsor a hole & Play (4 players, 2 carts)
2. $200 - Sponsor a hole (no play)
3. $300 - Enter a Team to Play (4 players, 2 carts - $75 ea)
4. Cash donations, Vouchers or prizes for the day and raffles
5. $1500-$5000 Major Golf Day Sponsor & esCarpade car exposure. Combination of cash donation to Golf Day & Prizes.
6. Singles can be catered for, if spaces are available ($75 ea).
Player admission included: breakfast, lunch, 18 holes each and 2 carts per team.
ENTRIES CLOSED:
Friday February 11th, 2022